Savas Studios: Boutique, MakeUp & Photography
May 12
It's baaack. Polly vest tank top by Motel is back in two colors. Here it is paired with navy blue shorts and a beautiful blue flower clip. All clips are handmade and available at #savasstudios #springfashion #motel #navy #flowerclips #shopsavas.com
May 07
Which couple wore it better? Tom's bowtie…Kim's may flowers?
Two of our favorite looks from the #METgala. Christina Ricci in #VivienneWestwood and Elizabeth Banks in #AtelierVersace
May 04
Introducing the #Bunny dress. Sweet & sexy. Perfect for a #party or #date #springtimeinBoston #leatherskaterskirt #sheerback #unique #savasstudios #northendboston
NEW #motel dip hem top #olive #leatherzipdetail #denimshorts #distressed #cuffed #jesuspiece #BOSTONstrong #handmade #supportlocalbusinesses #northendboston
May 02
Want!! #Coral is for #Summerlovers! 💛💛#MACcosmetics
Apr 30
It's the perfect day for a Maxi!! (When is it not during spring?) #Inlove with this #maxidress from #CostaBlanca! Available at shopsavas.com. Happy Tuesday! @belcusi
Apr 29
How to Break a Habit... or Start a New One | goop.com -
I once heard a quote that stuck with me ever since:

"If I must be a slave to habit, let me be a slave to my good habits."
It was Og Mandino, author of The Greatest Salesman in the World.
Every once in a while Quite often I realize how automatic my days have become and I'm reminded of the power of my habits (you forget too right? Or is it just me?). Some of these are good, others are not so good. These habits, or "ways" (me yesterday: "I just have this way of slamming the snooze button every morning Mom…" or "Jody I have this way of buying one new pair of shoes a week…I can't help it.") are the building blocks of our performance and achievement. It's easy to forget that just one small change can make a huge difference, and that success isn't so hard to obtain if our routines are filled with the right habits.
This issue of Gwyneth Paltrow's blog covers Habit building and breaking in depth, the kind of read that's always a good reminder any kind of slavery sucks, but if there has to be a master, let it be YOU in control of your habits, and not the other way around.
What do you do when it's time to change your "ways"?
Happy Monday!!
-Bella
Apr 26
Apr 25
Topshop Is Literally Selling 'Mom Jeans' and I Love Them -
—said Fashionista.com. Been seeing these around sporadically myself, on the rare occasion that the Sun God decides to grace Boston with it's warmth. Most recently spotted these high-waisted knicks at a barbecue: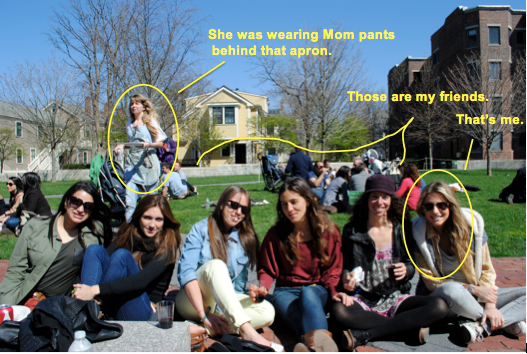 I saw her so many times throughout the afternoon without that apron on that I'm now upset I didn't full on street-style photograph her for you.
Personally, I have a pair of high-waisted black pants from American Apparel that I'm pretty much in love with. 1) No one can tell their Mom pants if I'm wearing a long, flowy shirt. 2) I can wear crop tops without feeling like a…you know the rest. 3) They're retro? Or is it vintage? 4) They're like a conscience for my stomach, a friendly reminder that a fourth chocolate chip cookie would not be okay. These pants are perfect.

One last thought, would this new classification also include high-waisted short shorts? Do we call them 'Mom Shorts' now? Somehow I don't think many mom's would approve.
Either way, I like them. What do you think? 

Xo
-Bella
Apr 24
Jane & Judy Aldridge Coveteured! -
These two are too much! I already sneak onto Jane's blog, Sea of Shoes, way too often when I should be doing my work.  She makes me wish I could rock red hair!
Apr 23
Spring trend alert🔊 and this ones got it all #royalblue #peekaboocutouts #sideslits #haltertop #sexy #fresh #standout #savasstudios #shopsavas.com 💥gold spike necklace also available
Spring trend alert🔊 this ones got it all #royalblue #sideslits #peekaboocutouts #haltertop #sexy #fresh #standout #savasstudios #shopsavas.com 💥hold spike necklace also available
Apr 22
LOVE
(via calvinklein)
[video]